Charitable Donation to the Office of Education Partnerships
UCSB's Office of Education Partnerships ensures that greater numbers of low-income youth, underrepresented students and first generation students are successful in pursuing a college degree. External support of OEP's community, K12 and university-based programs makes a critical difference in terms of what we can offer students. OEP works with corporate partners who contribute cash or in-kind gifts, engages alumni and students, and benefits from the support of foundations and individual donors. We welcome opportunities to develop new relationships!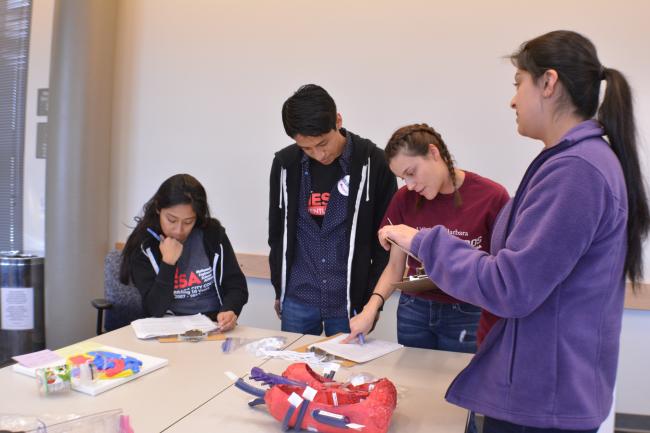 Programs You Can Donate To
MESA College Prep Program
Serving K12 students, the Math Engineering Science Achievement (MESA) program fosters early interest in science, technology, engineering, and mathematics (STEM), and prepares middle and high school students for college STEM majors.
Destination College Advising Corps (DCAC)
Serving low-income, first generation, and underrepresented high school students with personalized, knowledgeable guidance on college admissions requirements, financial aid, and enrollment.
MESA University Program
Providing low-income, first generation, and underrepresented college students with tools, resources, and support they need to successfully earn STEM degrees, be competitive for graduate school and/or career-ready for corporate industry employment.
UCSB - Smithsonian Scholars Program
Providing STEM students from local community colleges and UCSB who are first generation or low-income with early research experiences, professional and leadership development, and support that will help them achieve their academic and professional goals.
How To Donate
MAKE AN ONLINE GIFT TODAY
If you would like to donate to a specific OEP program let us know in the "Comments" box on the "Personal Information" page.
Contributions by check should be written to the "UC Regents" with the words "Office of Education Partnerships" in the memo line of your check.
To discuss giving options please contact:
Mario Castellanos OEP Executive Director
mario.castellanos@ucsb.edu
(805) 893-3105