In 2019, a partnership was developed between the College Advising Corps (CAC) and UC Santa Barbara's Office of Education Partnerships (OEP). This partnership is fostered by the UC Office of the President and UC Berkeley's Destination College Advising Corps (DCAC) program.
The UCSB College Advising Corps adopted the UC Berkeley DCAC program model and engages a cohort of UCSB's Mathematics, Engineering, Science Achievement (UCSB MESA) students at our school sites.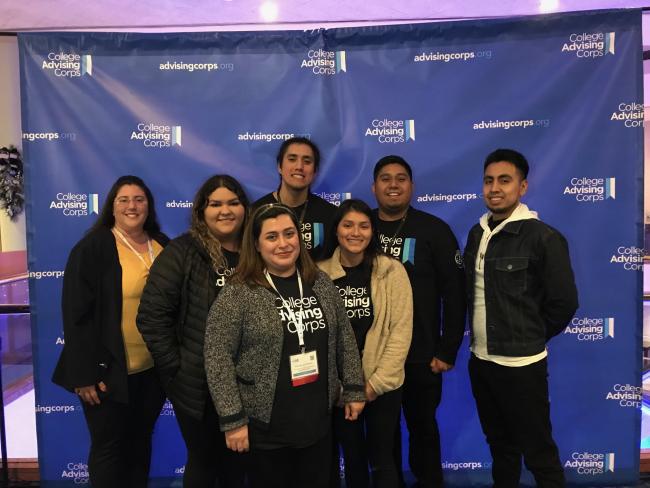 PROGRAM PURPOSE
Students
DCAC aims to increase college access and preparation for low-income, first-generation and underrepresented high school students. DCAC's purpose is to ensure all students are prepared to apply to college, have the opportunity to attend college, and are aware of all the post-secondary education options available to them. Students are connected with a highly trained, recent college graduate who is placed at their school site full-time as a College Adviser Fellow.
College Adviser Fellows
The DCAC College Adviser Fellows are first-generation college students who have obtained their bachelor's degree within two years of beginning their fellowship. Participation in the DCAC service and training program is for a maximum of two years and aims to prepare the College Adviser Fellows to be leaders in education.
PROGRAM INFORMATION
For high school students interested in participating in the program, here is what you can expect:
Intensive academic advising and college planning
Development of an Individualized Academic Plan (IAP) utilizing the UC Transcript Evaluation Service (TES)
Financial aid and scholarship application assistance
College application assistance
Student leadership development
College campus visits
SAT/ACT registration assistance
Please note the following for the UC admissions for freshman:
Freshman applicants are not required to submit SAT/ACT test scores for fall 2021 and fall 2022 application cycles.
SAT Subject Tests are not required, but are recommended for certain selective majors.
For further information please visit the University of California Admissions by clicking here.
Whole School Information
DCAC activities help support our school sites to increase their college enrollment rates and the program serves as a resource for all students at the school. Our DCAC support activities include:
Individual drop-in college advising/preparation
Parent/guardian/family workshops/events
College information and preparation workshops
Financial aid/scholarship workshops
Participant Eligibility
First generation, college and/or low-income students are eligible to enroll in the DCAC program at one of our school sites. For more information, please contact the DCAC College Adviser at your school site.
---
COLLEGE ADVISER FELLOWS
Brianna Baeza College Adviser - Adolfo Camarillo High School
bbaeza@ucsb.edu
Brianna received a bachelor's of science degree in Biology from the University of California, Riverside. Her passion lies in teaching students about college access and STEM (science, technology, engineering, and mathematics). She is especially focused on being the bridge to a successful future for those in underrepresented groups within her community.
Brianna advises because... "I hope to become the bridge between high school students and a higher education."
Evelyn Acosta College Adviser - Lompoc High School High School
evelynacosta@ucsb.edu
Evelyn received a bachelor's of Science degree in Criminology – Law Enforcement from California State University, Fresno. She believes she can be a good advocate for students and is passionate about helping them succeed in her community.
Evelyn advises because... "I want to be a resource for students and their families and uplift them during their college-access journey."
Crystal Soriano College Adviser - Oxnard High School
crystalsoriano@ucsb.edu
Crystal received a Sociology and Chicana/o Studies bachelor's degree with a minor in Education from the University of California, Los Angeles. She is passionate about working with first-generation college students.
Crystal advises because... "everyone deserves to recognize their postsecondary pathways and feel supported in reaching their goals!"
Melani Castellanos College Adviser – Rio Mesa High School
melanicastellanos@ucsb.edu
Melani Castellanos received a bachelor's of Arts in Mathematics from the University of California, Santa Barbara. Her future career goal is to obtain a Master's in Education to keep empowering other first-generation students.
Melani advises because... "I want to ensure that other first-generation students know attending college is attainable."
PROGRAM CONTACTS
For further information, please contact the OEP staff members listed below:
Mirian Gutierrez DCAC Regional Manager
mirian.gutierrez@ucsb.edu
Micaela Morgan, Ph.D. K-12 Programs Director (DCAC Program Director)
micaela.morgan@ucsb.edu