The MESA University Program is a UCSB undergraduate retention program for first generation college students within STEM field majors. Coordinated by the University of California, Office of the President, the MESA University Program maximizes undergraduate students' academic potential to prepare them for careers in science, technology, engineering, and mathematics (STEM) fields. Staff and faculty work together to increase students' awareness and access to graduate degree programs and to promote community service through outreach events and mentoring.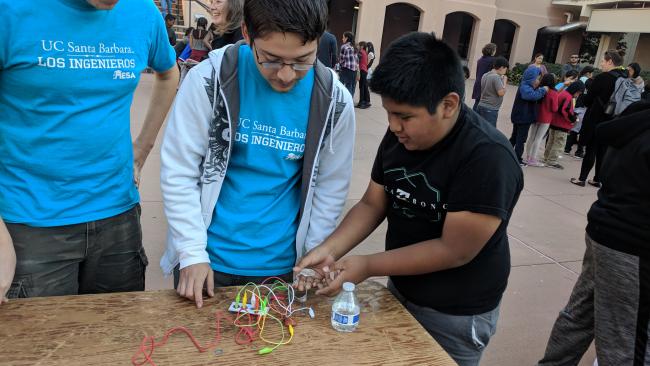 "After 40 years, MESA remains a model on how to "get it right" for students in the fields of mathematics, engineering and science."
– Tom Torlakson, State Superintendent of Public Instruction
Program Information
For students interested in participating in the program, here is what you can expect:
Participant Eligibility:
We support students who are first generation and/or low-income. Students must be enrolled fulltime at UCSB.
MESA Successful Transition Program (M-STP)
M-STP is a 3-week transition program for incoming first-year students and transfer students in the STEM fields. The aim of the program is to expose students to academic rigor, inform them about all the great resources available at UCSB, and help them network with other UCSB students, alumni, and industry partners. Look for the application and dates of the 2021 program in May 2021.
Program Information
For students interested in participating in the program, here is what you can expect:
Short courses in:

Python & MATLAB
Math & Physics
Technical writing
College success

Seminars with:

Industry professionals
Alumni & Faculty

Community building activities
Mini project competition
Activities with current undergraduates
Academic courses taught by UCSB College of Engineering graduate students
Participant Eligibility:
Must be fulltime UCSB STEM student
Must be first-generation college-bound, meaning neither of your parents/guardians has a 4-year degree
Priority is given to students who participated in MESA at their high school or community college
Application link available May of 2021.
PROGRAM CONTACTS
For further information, please contact the OEP staff members listed below:
Enrique Guzman MESA Program Coordinator
enrique.guzman@ucsb.edu
Micaela Morgan, Ph.D. K-12 Programs Director (MESA Program Director)
micaela.morgan@ucsb.edu