Since 1970, the MESA College Prep Program has provided academic enrichment and college exposure to first-generation college middle and high school students as part of the academic preparation efforts of the University of California, Office of the President. UCSB's MESA College Prep Program works with teachers, who serve as Advisors, offering students support in science, technology, engineering, and mathematics (STEM) subject areas through hands-on, problem-solving projects and challenges. To encourage innovation and peer mentoring, MESA conducts STEM-focused competitions. With a core goal of increasing college-going rates, MESA also provides academic and college preparation and career education to MESA students and their families, a strategy that has proven effective at preparing students for college admission and STEM careers.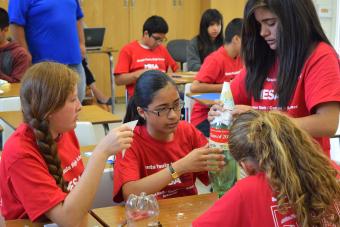 "We appreciate all that you do at UCSB to reach out to students, not just on MESA Day, but all throughout the year…these are the things that inspire students at a young age!"
– Maria Elena Plaza, Principal, RJ Frank Intermediate School
Program Information
For students interested in participating in the program, here is what you can expect:
Participant Eligibility:
First-generation, college-bound, and/or low-income students are eligible to enroll in the MESA College Prep Program. For more information, please contact the MESA Advisor at your school site.
Program Contacts:
For further information, please contact the OEP staff members listed below.
Brianna Baeza MESA Program Coordinator
bbaeza@ucsb.edu
Enrique Guzman MESA Program Coordinator
enrique.guzman@ucsb.edu
Mayra Villanueva MESA Program Coordinator
mayra.villanueva@ucsb.edu
Micaela Morgan, Ph.D. K-12 Programs Director (MESA Program Director)
micaela.morgan@ucsb.edu