Brief History
In 2015-2016 UCSB, its regional community college partners, and the Smithsonian National Zoo and Conservation Biology Institute co-developed an innovative collaborative program to engage diverse students in experiential learning centered on multi-disciplinary conservation strategies, biodiversity research, and green careers in STEM.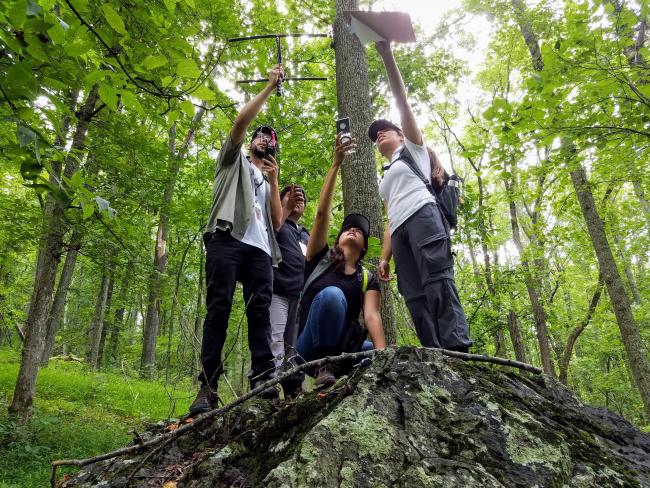 Program Offerings:
For students interested in participating in the program, here is what you can expect.
New participants enter the program as a cohort in the late spring/early summer (May).
New participants join our Early Research Experience Summer (¡ERES!) Program where they are introduced to rigorous STEM content and a network of researchers, instructors, and peer-mentors.
During the academic year we provide seminars and multi-day workshops that prepare all participants for STEM opportunities, including internships, professional development, academic opportunities, and post-baccalaureate fellowships.
Participants in "good standing" have access to resources beyond their initial program year and after graduation.
Program affiliates support participants and help them prepare for post-graduate professional and academic opportunities.
Participant Eligibility
We are looking to support STEM students who are first generation and/or low-income. Students must be enrolled fulltime at UCSB, Oxnard College, Santa Barbara City College, Allan Hancock College, Ventura College, or East LA College. Participants must maintain "good standing" and be willing to try new and challenging experiences in a team environment.
Application Information
Deadline for submitting application materials is March 15th.
To assess an applicant's eligibility and fit for the program, please complete the items below before the deadline of March 15th:
Complete the Student Enrollment Form and provide your up-to-date unofficial transcript by email to our program coordinator (see contact information below). You will also need to list two references in the Student Enrollment Form.
Provide by email one letter of recommendation by a faculty member or program administrator from any academic institution (college/university) you have attended that can highlight your academic achievements and character.
Schedule an appointment for an online professional interview by contacting our program coordinator by email.
Here is an easy-to-follow checklist that will walk you through the application process. For further information, please contact the OEP staff member listed below.
Cristina Soto Balderas Program Coordinator
Cristina.Soto.Balderas@ucsb.edu
805‐893‐4789