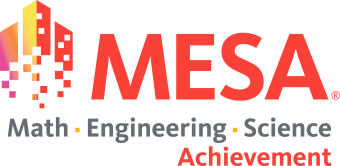 For the past 50 years Mathematics, Engineering, Science Achievement (MESA) has strengthened math and science skills for underrepresented students and expanded access to higher education and productive careers. MESA's innovative and effective programs for students from elementary school to college are nationally recognized and serve as a model for others. Across California and several other states, MESA engages thousands of students in academic programs, helping them excel in school and eventually earn degrees in Science, Technology, Engineering and Mathematics (STEM) fields. The MESA program's success lies in on-going partnerships with higher education and institutions, supporting students through the education pipeline.
Enrollment/Eligibility
For more information, please contact the K-12 Programs Director.
Program Contacts
Enrique Guzman
MESA Program Coordinator (College Prep & University Programs)
enrique.guzman@ucsb.edu

Mayra Villanueva
MESA Program Coordinator (College Prep Program)
mayra.villanueva@ucsb.edu

Dr. Micaela Morgan
K-12 Programs Director
(MESA College Prep & University Programs Director)
micaela.morgan@ucsb.edu